Motivation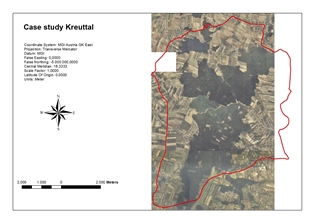 The Kreuttal is a valley used obviously since the Neolithic connecting the "Bay of Korneuburg" and the "Viennese Basin". Breaking through a mainly wooded N-S mountain ridge in the E-W direction it formed a natural and easy to pass connection of the two regions. At both sides of the mountain ridge between Kleinrötz and Grossrussbach numerous prehistoric sites (settlements, cemeteries, hill-forts, monumental ring ditches) from the Early Neolithic up to the Late Iron Age are known by prospection and excavation. The area includes not only the largest Early Neolithic enclosure Grossrussbach-Weinsteig but was especially in the Middle Neolithic densely settled - each settlement integrated a monumental circular ditch system (KGA). Some of these sites are in an amazingly well preserved state whereas others seem to be in danger of being destroyed by erosion. From a technical and methodological point of view, this area is suitable for the application of many different prospection methods.
The high density of the multi-period sites known so far and its specific geographical situation between two main landscapes with different soils, micro-climate and natural resources forms a perfect background for a case study aiming at the complete coverage by an integrated prospection approach.
As the landscape is mainly under agricultural use and the medieval occupation is mainly connected with the still existing villages the application of the developed geophysical devices is indicated as well as the use of AHS and ALS to investigate a prehistoric landscape and its change through time. ALS will be of highest interest as the forested areas are known to include many prehistoric sites preserved in the topography, which never have been mapped precisely.
Finally the datasets at hand are extremely various and therefore perfectly suited for a complete integrated interpretation of the archaeological datasets. The dataset collected so far combines remote sensing (Airborne Hyperspectral and Laser Scanning, Aerial Archaeology), geophysical prospection, historical maps, field walking and geoarchaeological results.